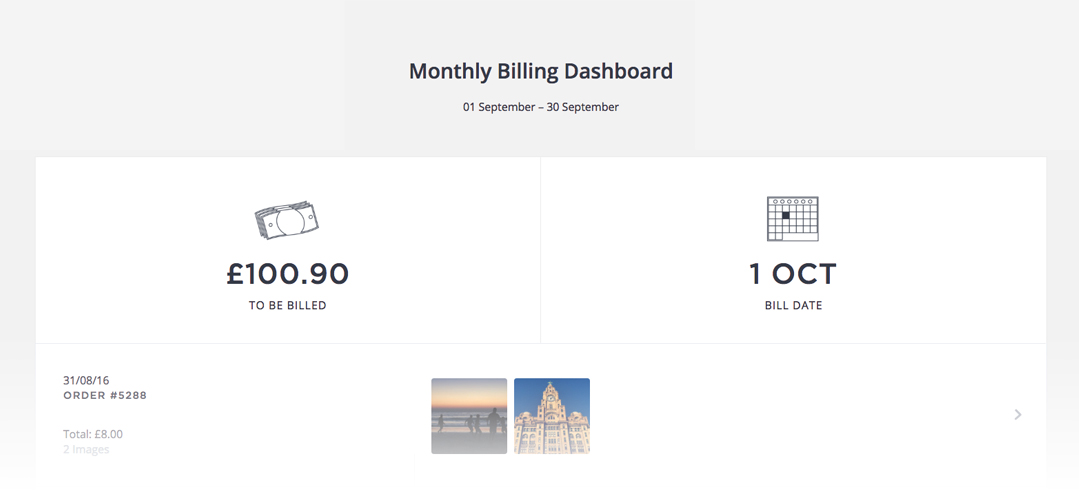 What is monthly billing?
Monthly Billing consolidates all of the images that you license each month into a single monthly bill (with applicable tax breakdowns), rather than paying individually for each batch of images when you license them.
You still get the unwatermarked images you require instantly, but rather than billing you on the spot, we'll add the fees to a rolling total and bill you the full amount at a set time each month.
How do I request monthly billing?
If you're a business or publication fill in this simple form to request a monthly billing account. We'll then verify you, and if you pass our checks, we'll get you set up with a monthly billing account straight away.
How long does this take?
Monthly billing requests usually take no longer than one business day to process.
What details do you need to become a monthly billing customer?
We'll need Credit Card details from you to set up a monthly account once you've been verified, or an invoicing email address to send an invoice to.
If you opt for credit card payment, we'll check the card is valid by charging a £1 fee, then instantly refunding this £1. We'll then securely store your details and charge your card when the monthly period is up.
What if I don't license any images in a month?
Then we won't charge you a penny. We'll only ever charge when there's a balance to be paid.
Is there a limit to how many images I can license in a month with a monthly billing account?
Yes. You can license Picfair images up to a total of £200 each month, inclusive of all Picfair commission and payment processing fees. If you require a higher limit, you can request this on the request form, or contact us.
How do I know what my next bill is going to be?
You'll be able to see a running total in your Monthly Billing area, where you'll also be able to see all previous monthly bills.